Company Name

Faurecia Clarion Electronics Co., Ltd.
フォルシアクラリオン・エレクトロニクス株式会社

 

Headquarters & Technology Center

7-2 Shintoshin, Chuo-ku, Saitama-shi, Saitama,
330-0081, JAPAN
Tel: +81 48 (601) 3700

 

Established

December 18, 1940

 

Capital

11,056 million yen

 

Business Lineup

Safety & Information Systems,
Cloud-Based Information Network Services for Vehicles,
Commercial Vehicle Drive Management Systems,
Car Navigation Systems, Car Audio.
| | |
| --- | --- |
| Directors |   |
| Representative Director  | François TARDIF |
| Representative Director & Chairman | Keyvan KARGAR |
| Representative Director & President     | Katsuaki OGISO |
| Representative Director & CFO | Luc CHARLEMAGNE |
| Director | Jack VAN DEN MAEGDENBERGH |
| Director | Yoshinori Kodera |
| Corporate Auditor | Vincent Leroy |
|   |   |
Main Banks and Financial Institutions
Membership Organizations
Resona Bank, Ltd.
Mizuho Bank, Ltd.
Sumitomo Mitsui Banking Corporation
MUFG Bank, Ltd.
Japan Auto-Body Industries Association Inc.
Environmental Policy
Based on the policies of the Faurecia group, FCE Koriyama promises to reduce the environmental impact of products and processes through the following initiatives.
 1.We evaluate the environmental impact of our products and services. We set promote our environmental targets. We review our environmental targets every year to improve our environmental performance. We continuously improve our environmental management system.
 2.We reduction of harmful substances in products, resource saving, promote the provision of environment-friendly products and services such as reduction of energy consumption, contributes to reducing the environmental burden on society.
 3.We promote energy conservation and strive to prevent global warming.
 4.We promote waste reduction and recycling, and promote the recycling of resources.
 5.We strive to conserve the ecosystem and promote environmental conservation while greening the offices and surrounding landscapes.
 6.We prevent environmental pollution due to wastewater from the offices and leakage of oil and harmful substances.
 7.We comply with environment-related laws and regulations, other requirements agreed by the organization, and self-standards.
 8.We improve and educate our employees about environmental conservation through education and training.
 9.We actively disclose information and communicate with the external parties about our environmental conservation activities.
Revised January 20, 2021
Promotional Framework for the Environment
In order to promote our environmental protection activities, Faurecia Clarion Electronics  obtained ISO14001 certification in 2000. The activities are promoted by "Standing Committee on the Environment" which plays active roles and we conduct external inspections and internal environmental audit once a year to assess the state of implementation and maintaining of environmental management system.
Certification Overview
Name of Organization
Faurecia Clarion Electronics Co.,Ltd. Tohoku Plant
Address
50,Shimotagawara, Aza Kanaya, Tamura-machi, Koriyama-shi Fukushima, Japan
Registration No.
JE0039H(ISO 14001:2015, JIS Q 14001:2015)
Scope of Accreditation
1. Manufacture of Audio, Visual and Data Comunication Equipment for Automobiles.
2. Repair Service for Clarion Production.
Initial Registration Date
Registration Date
Expiration Date
Apr. 25, 2000
Apr. 25, 2021
Apr. 24, 2024
Accreditation Body
JIA-QA Center
Japan Gas Appliances Inspection Association
Environment Protection Activities
Faurecia Clarion Electronics  is working to reduce the environmental impact of its business activities and fulfill its responsibility as a member of society. These activities closely relate to harmonized society with nature, low carbon society, resource efficient society and chemical substance management.
Participation in Volunteer Clean-up Activity of Inawashiro Lake (Fukushima Pref.)
As a part of the environmental joint activities of the Koriyama Site's Eco-Factory Subcommittee, we have taken part in volunteer works of cleaning up and collection of drifted waterweeds in Lake Inawashiro in Fukushima since 2010, to collect and remove waterweed and waste which cause deterioration of water quality. We actively promote activities for improvement of water quality and preservation of ecological systems of Inawashiro Lake.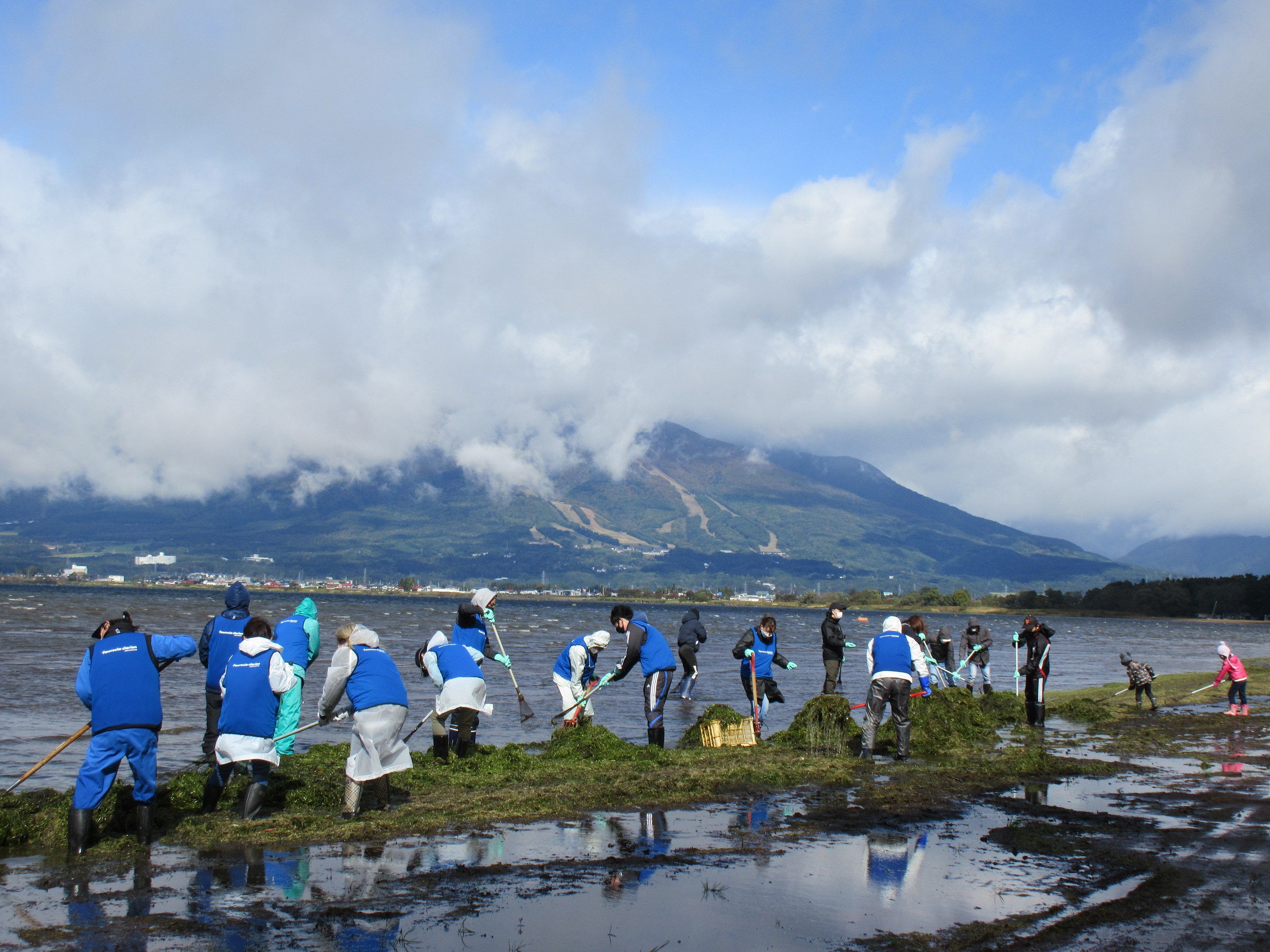 Customer Satisfaction Policy
Establishing lines of communication between customer and company.
Establishing lines of communication between customer and company.In recent years, we have seen a growing emphasis being placed on individuality and personal preference. Customer needs continue to expand, from individual product functions to the domain of information including How To USE and Information Services. Keeping this in mind, Faurecia Clarion will not only develop new technologies and improve product quality, but will also work to expand our lines of communication with the customer. Strengthening customer support will serve as a core of our business. Currently our highly-skilled operators handle all sorts of inquiries from users and retailers, including requests for repairs, information, printed materials and complaints.
Grasping customer needs and strengthening internal feedback.
In order to tap a new market and discover existing and potential future customer demands, the opinions and information we gather through our customer support activities has become important assets, and accurately gauging the voice of the customer is a concept that is absolutely crucial for our company. Furthermore, by creating a "market sensor" function that feeds back information to various internal company divisions, we are constructing an organization that can contribute positively to product development.
Privacy Policy
When being asked for personal information such as your name, address, telephone number and e-mail address, please be assured that Faurecia Clarion is complying with all laws and regulations that apply to personal information and is following the below outlined Privacy Policy. 
Faurecia Clarion shall use personal information such as names, addresses, e-mail addresses and telephone numbers solely for the purpose specified. In addition, Faurecia Clarion has implemented security measures to prevent unauthorized access, loss, leakage, alteration or extraction of personal information from our systems. 
Faurecia Clarion will not provide or disclose personal information to third parties without notifying you prior to such provision or disclosure, or unless such third-party is an approved subcontractor. In addition, Faurecia Clarion ensures that appropriate management of personal information is being implemented at those entities that have been provided with such information.
Faurecia Clarion and its affiliated companies may utilize personal information to provide you with information regarding products and services and in business operations for developing products and services. If you would not like to receive such information or if you do not want your personal information to be utilized in our business operations, please write to us stating that such is the case. Upon receipt of the request, we will stop the use of your personal information for such purposes. 
Moreover, if you would like to confirm, correct or delete personal information provided by you on this website, please write to us stating that such is the case. We will then take appropriate measures to respond to your request.
Cookies
We may use cookies for the purpose of enhancing the contents and for your convenience in using the Web Site.
Cookies are small data file that are written on your hard disc when you visit web sites for identifying the sites/pages visited. They are designated for your more convenient use of the Web Site and the contents, and they will not be used to obtaining specific information to identify individuals unless you have agreed to such use.
Your browsers can be set to reject cookies or to show a dialog box about the transmission of them from the web sites. By setting your PC to reject cookies, there could be cases when you can not enjoy our Web Site fully.